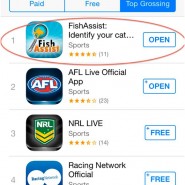 FishAssist Reaches Number 1 Spot
Appsquare recently developed 'Fish Assist', a mobile app that has attained immediate success. Developed and launched a week ago, it has become the #1 Top Grossing Sports App on the Australian App Store.
Appsquare is an Australian based mobile application development company. 'FishAssist' is an app designed to give users the power to identify and measure their fish catch using an iPhone with integrated world class image recognition software.
Within a week of its launch, the app achieved massive success in the Australian mobile app market. Climbing the chart to rapidly become the number 1 paid Sports apps on the Australian App Store and is currently ranking #3rd among paid apps across all categories!
Mobile apps have changed the way we live our lives.
The app is said to have been created due to "dire need for a user-friendly and comprehensive fishing app".
When Vishal Gumber the Founder and CEO of Appsquare, was asked about the idea behind the mobile app, he shared, "At Appsquare, we are always looking for concepts that are new and out of the box. When Brad came to us with the idea for Fish Assist, we loved the extremely fresh and interesting concept. It's overwhelming to see the response, we are glad that are efforts are showing results."
He added, "The project involved complex image matching algorithms, which our expert developers achieved with machine learning techniques."
According to app square, their App developers have done extensive brainstorming to create its simple and easy to navigate User Interface. Fish Assist turns the iPhone camera into a fish species recognition tool.
The program simply takes a photo of the catch, and utilizes the image recognition software to narrow down and present the user with a section of species which the user can then select from the list given by Fish Assist. The fish selected is then measured.
FishAssist has been designed to be used as a guide for fishing and meeting further legalities with Australian fisheries. The app has received a large number of positive reviews from fishing lovers.
Finally an app to identify fishes!!! As someone who is new to fishing, I struggle to identify what I caught sometimes, but to be able to know what exactly the species is on the spot is, this is great!
This app is so great. I use it every time I go fishing. Maps with places are awesome and pictures of fish to see if it is legal or not is the best. Thanks guys and definitely recommend to everyone.
"Mobile apps have changed the way we live our lives. It's a technology driven world and our only aim is to persistently modernize our processes and systems to offer our clients top-end technology in our apps and we will continue to do so," concludes Vishal.
Visit Appsquare, to learn more.
About Appsquare:
Appsquare develops top-notch mobile phone applications across different platforms – iPhone, iPad, Android, Windows, Blackberry and HTML. The company also pioneered development of HTML5 hybrid mobile applications, many of which have become chart-toppers.
Contact Information:
Vishal Gumber
(m) +61 431 656 305
(e) vishal@appsquare.com.au
(w) www.appsquare.com.au
(a) Suite 208, 29-31 Lexington Dr, Bella Vista 2153
Story by OzMedia
Tweet